Body Protected Area Testing
Body Protected Electrical Area testing is specialised electrical testing carried out in hospitals, aged care, health care, medical and dental facilities.

A Body Protected Electrical Area is a health care patient area defined in AS 3003:2011 which requires annual routine inspection and testing.
These areas are designed for procedures in which patients are connected to equipment that lowers the natural resistance of the skin. Applied parts such as electrode gels, conductive fluids entering the patient, metal needles and catheters provide an easy pathway for current to flow.
The main occurrence of injury from Body-Type procedures is from high current levels causing electric shock. A direct connection to the patient's heart is not present so the risk of 'Microelectrocution' – fibrillation from minute current levels – is reduced.
Residual Current Devices (RCD) or Isolation Transformers and Line Isolation Monitors (LIMís), are used in Body Protected areas to provide protection against electrocution from high leakage currents.
Body-Protected Areas are identified with this sign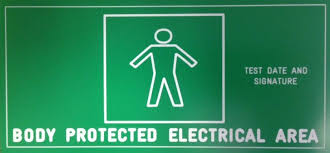 Example Areas
Accident & Emergency Wards.
Chiropractic & Physiotherapy Treatment
CT Rooms.
Day Procedure Theatres.
Delivery Suits.
Dental Surgeries.
General Medical & Surgical Wards.
Patient Ensuite Bathrooms, Shower Rooms,
Toilets etc.
Patient Examination Rooms in Outpatients
Treatment Rooms
Ultrasound Rooms
X-ray Rooms
Doctors Consulting Rooms
Nursing Homes
Other Locations intended for body-type procedures
The team at Illumination Systems Australia can test and certify patient areas to AS/NZ 3003 across Victorian locations.
Annual testing of patient areas is a mandatory requirement of this standard. It is your obligation to ensure it is tested every 12 months. Once the testing is complete, we will provide you with a set of comprehensive test results and a 12-month compliance certificate.
Save the hassle and headaches by booking in Illumination Systems Australia to take care of your routine electrical inspections & testing. We will automatically lock in mandatory inspection & testing dates to ensure your workplace is always up to standard and you never have to worry about falling behind and creating a non-compliant working environment.
Arrange a site inspection – We offer a completely free site walkthrough & safety check to determine exactly what your workplace requires to comply with Australian electrical standards.
Routine inspections & testing we offer – test & tag, exit & emergency testing, RCD testing, switchboard safety audits, body protect area testing
Illumination Systems Australia is a Registered Electrical Contractor (REC:30969) because of this unlike other compliance testing companies we can rectify any faults that we may find whilst performing these inspections.
Contact Us Today to Discuss Body Protected Area Testing
With over forty years of combined industry experience, the team at Illumination Systems Australia are ready to help.
Contact our team for a cost-effective solution today.